WE are
Since its creation, the WE Label has been facilitating collaboration between private and public actors in order to illustrate that the work undertaken by land managers is very much in line with the central tenets of biodiversity conservation. This has involved the creation of National Delegations to engage with both private and public actors, such as NGOs, administrative bodies, universities, independent scientists, and even companies.
The WE Label is currently represented in 19 European countries mostly through a decentralized network. The Wildlife Estates secretariat is situated in Brussels, Belgium whereby it coordinates the activities of the National WE-Delegations.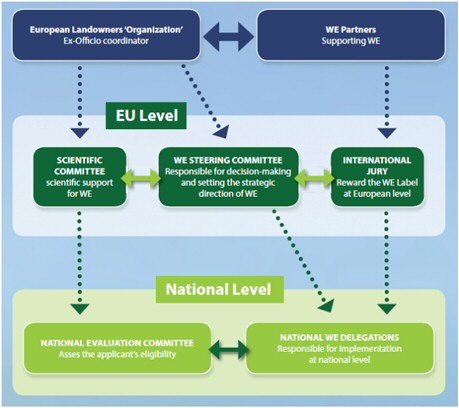 ELO – Ex-officio coordinator
The European Landowners' Organization (ELO), created in 1972, is a unique federation of national associations from the EU28 and beyond representing the interests of landowners, land managers and rural entrepreneurs at the European Union level. The organization promotes a sustainable and prosperous countryside through private ownership, public-private initiatives, responsible land management, and family business.
As an independent, non-profit organization, the ELO represents all rural entrepreneurs. Such a broad scope of representation gives it unmatched presence and credibility in it relation with European decision makers, at the highest level.
To advance its position, ELO has developed a lobbying strategy, manages think tanks, and is involved in international conferences, workshops and action programmes. The effectiveness of the organization relies on its ability to gather rural actors and political decision makers at a local, regional, national and pan-European levels. Not only does ELO raise the interests and concerns of their stakeholders, but also provides insight into the local effects of implementing EU legislation such as the promotion of sustainable management practices through the WE Label.
For more information, visit the official website of the ELO at www.elo.org
Scientific committee
The general aim of the Scientific Committee is to facilitate the creation and validation of an objective methodology for the WE Label in each country. It is a scientific board that advises national delegations on matters relating to the methodology. This Committee is composed of eight highly qualified experts from the different biogeographic regions of the EU: Macaronesian, Mediterranean, Atlantic, Continental, Pannonian, Boreal, Arctic, and Alpine. They assess the validity of the different scientific criteria and principles that embody the core principles of the WE Label.